Revamped LAN Airlines site, built by Green Team, underscores the airline's position as the expert on travel to South America.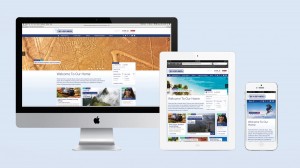 New York, NY – Glaciers and gauchos? Giant tortoises and seductive tango? Machu Picchu and Malbec? There are certain wonders that can be found…Only In South America.
Only In South America. That's the message users will get at the newly launched evolution of a LAN Airlines, part of LATAM Airlines Group, website created by Green Team.
The new Only In South America (a.k.a. OISA) features the exclusive insights of six OISA "Insiders," on-the-ground bloggers who can generally answer user questions within 72 hours. Five out of the six "Insiders" are US ex-pats now living in the country they cover (Argentina, Brazil, Chile, Colombia and Ecuador; the Peru "Insider" is a native Peruvian), which helps make their information and assistance especially relevant for potential North American travelers.
The new OISA site is also responsive (meaning it can adapt to all digital platforms), content-rich, frequently updated and boasts a large volume of original content that is easily sharable.
"We're really proud of the new OISA site," says Pablo Chiozza, Vice President USA, Canada and Caribbean, LATAM Airlines Group. "It's beautiful, user friendly, and its destination-centric strategy and depth of content is ground-breaking for the airline industry. It does a wonderful job of solidifying our position as the carrier with a knowledge of South America that only a South American-based carrier could have."
"I have traveled extensively in South America," says Green Team President Hugh Hough, "and I can tell you the new OISA site does an amazing job of capturing the beauty and excitement of these countries."