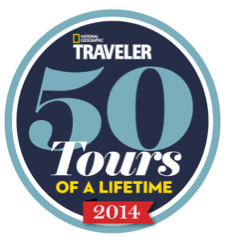 Editors note: More than half of the tour providers featured (31 out of 50) are current ATTA members:
Washington – National Geographic Traveler magazine today announced its annual Tours of a Lifetime selection, now in its ninth year. The 2014 list features 50 of the world's best guided trips chosen by the editors of National Geographic Traveler. In addition, the editors picked 10 of their favorite expeditions of a lifetime offered by National Geographic. The list and details about the trips can be viewed in National Geographic Traveler magazine's May 2014 issue and online here.
"This year marks the 30th anniversary of National Geographic Traveler, which has always looked at the world through the lens of culture, nature and history. The tours we selected go beyond destination to add meaning and context," said Norie Quintos, executive editor of National Geographic Traveler. "They open the mind to new possibilities, new connections, new ways of thinking — all critically important given the world's complex issues."
From joining a voodoo ritual in Benin to kayaking the canals and barrier islands of Venice to following the cheese trail in Vermont, the 50 guided tours offer authentic travel experiences that are sure to leave participants smarter, wiser and refreshed. The additional 10 expert-led, signature tours from the National Geographic Travel family include inspiring adventures from Antarctica to Cuba to the Galápagos.
The Tours of a Lifetime and their tour operators are:
–AFRICA–
"Mystical West Africa," Benin, Togo, Ghana — GeoEx
"Ultimate Botswana Adventure," Botswana — Audley Travel
"Hyenas to Humpbacks," Kenya — Oceanic Society
"Namibia: Secrets Revealed," Namibia — Africa Adventure Consultants
"Untouched Africa: Gorillas of the Congo Basin," Republic of the Congo — Extraordinary Journeys
"Mandela Landscapes," South Africa — Red Savannah
"Beyond the Big Five: Uganda, Tanzania, & the Spice Island," Uganda, Tanzania — Global Basecamps
"Voyage to Madagascar," Madagascar, Tanzania, Comoros, Réunion, Mauritius — Zegrahm Expeditions
"South Morocco Discovery," Morocco — Dragoman
"Heart of African Civilization," Ethiopia — Rothschild Safaris
–ASIA–
"Discovery of the Caucasus," Armenia, Azerbaijan, Georgia — Exeter International
"Expedition to Tibet's Far West," China — WildChina
"High Road to Kashmir," India — Wild Frontiers
"Kerala: Kayaking, Culture, and Cuisine," India — Hidden Places Travel
"Highlights of Iraqi Kurdistan," Iraq — Explore!
"Jordan Insider," Jordan — Engaging Cultures Travel
"Discovering the Chindwin River Aboard the Orcaella," Myanmar — Belmond
"The Philippines: Trekking the Terraces and Beyond," Philippines — Remote Lands
"Vietnam Volunteer Program," Vietnam — Global Volunteers
–EUROPE–
"Iceland Winter Adventure," Iceland — REI Adventures
"Kayaking Italy: The Venice Lagoon," Italy — Tofino Expeditions
"Transylvania Traverse," Romania — BikeHike Adventures
"A Chronicle of Russian Cuisine & Culture," Russia — MIR Corporation
"Wilderness Walking: The Outer Hebrides and Skye," Scotland — Wilderness Scotland
"Green Charms of Slovenia," Slovenia — Kensington Tours
"Reindeer Spring Migration," Norway — Turgleder AS
"Wildlife in the Changing French Pyrenees," France — Earthwatch Institute
"World-Class Classical Music Lucerne and Berlin," Germany, Switzerland — R. Crusoe & Son
"Turkish Delights," Turkey — Whole Journeys
–PACIFIC ISLANDS & OCEANIA–
"Australia: Family Planet," Australia — Elevate Destinations
"The Naghol," Vanuatu — Aspiring Adventures
"Cycle, Kayak, and Walk Tasmania," Australia — Tasmanian Expeditions
–NORTH AMERICA & CARIBBEAN–
"Trek the Waitukubuli National Trail," Dominica — World Expeditions
"Dig Into Vermont's Edible Landscape," Vermont — Cultural Crossroads
"Northwest Passage Cruise From Greenland to Russia," Greenland, Canada, Alaska — Compagnie du Ponant
"Montana Family: Great Western Adventure," Montana — Austin Adventures
"Quebec: Magdalen Islands Multisport," Canada — Freewheeling Adventures
"Empire Builder Epic," Washington, Idaho, Montana — Bicycle Adventures
"Mexico Bike & Surf Adventure," Mexico — Access Trips
"Olympic Adventure," Washington — EverGreen Escapes
"A Sunny Multisport Sampler, Kauai," Hawaii — Sierra Club Outings
"Great Smoky Mountains and Blackberry Farm," Tennessee — Trek Travel
"Alaska," Alaska — Field Guides
–CENTRAL & SOUTH AMERICA–
"The Last Frontier," Chile — Chile Nativo
"Travesías From Uyuni," Bolivia, Chile — Explora
"Jaguar's Trail: Pantanal to Amazon," Brazil — Wild Planet Adventures
"Amazonian Immersion," Ecuador — Pachamama Journeys
"Mindfully Engaging Guatemala," Guatemala — Journeys International
"From the Pacific to the Caribbean," Nicaragua, El Salvador, Honduras — KE Adventure Travel
"Cusco to the Amazon," Peru — Sacred Rides Mountain Bike Holidays
–NATIONAL GEOGRAPHIC TRIPS–
"Human Origins: Southwest France and Northern Spain," France, Spain
"Galápagos," Ecuador
"The Holy Land: Past, Present, and Future," Israel, West Bank
"Journey to Antarctica," Antarctica
"Wild Encounters From Borneo to Bali," Malaysia, Indonesia
"Tibet and Nepal: Journey to the Highest Himalaya," China, Nepal
"Sweden: Dogsledding to the Icehotel," Sweden
"Walking Safari With the Maasai," Tanzania
"Cuba: Discovering Its People and Culture," Cuba
"Celebrating Exploration With National Geographic by Private Jet," Worldwide