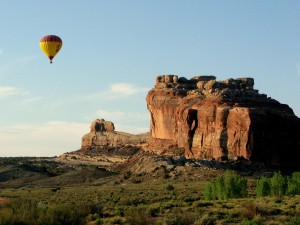 Moab, UT.– Make sure you're in a world-class region for adventurous living; fill in the blanks with visitor services and satisfying food / lodging options; hope for a little help from Hollywood and the result, says Utah's Moab Adventure Center, is a 2011 business surge that may better 2010 numbers by 15 percent at season's end.
"It's fun to be a part of the energy and excitement happening around Moab this year. We are thrilled by the overwhelming increase we have seen, not just at the Moab Adventure Center, but throughout the entire community," says Jamie Pearce, manager, Moab Adventure Center. She predicted that the company would serve over 31,000 visitors this year.
Many sign up for the 10 percent off deal when three activities are purchased together. Activities range from hot air ballooning and mountain biking to Hummer safaris, rafting and national park tours (Moab is between Arches and Canyonlands National Parks).
Brandon Lake, co-founder of Moab Adventure Center, says that an active film commission deserves much of the credit for this region's popularity.  A recent blockbuster, 127 Hours with James Franco (filmed in the area) has helped elevate Moab's profile.
Other films made here since 1939 include John Wayne classics, City Slickers II and Mission Impossible II. The Shafer Trail under Dead Horse Point near Moab is where Thelma and Louise took their final leap into the Colorado River. Star Trek and Nurse Betty also evolved here. The 60-year-old Moab to Monument Valley Film Commission is the longest running film commission in North America.
High gas prices and word-of-mouth are bringing in locals on stay-cations. Some guests are beginning to arrive on a newly offered Las Vegas to Moab flight on Great Lakes Airlines. Lake noted that Moab is the epicenter of what's known as the "grand circle" that Europeans especially seek out. The circle includes Zion National Park, Bryce Canyon, Arches National Park, Canyonlands National Park, and Capitol Reef National Park and Lake Powell (in Utah) as well as the Grand Canyon, Mesa Verde, and other parks and national monuments throughout the Southwestern United States, "so most people travel by car. And Moab is centrally located to benefit as a stop on all these itineraries."