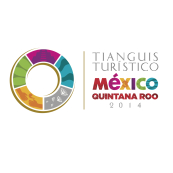 Time: May 6, 2014 to May 9, 2014
Location: Lakam Center Cancun-Riviera Maya
City/Town: Cancun – Riviera Maya
Website or Map: www.tianguisturisticomexico.com.mx
Event Type: trade, show, networking, showcase, mexico
Organized By: Mexico Ministry of Tourism, The Mexico Tourism Board, State of Quintana Roo
Latest Activity: on Friday
As you might know, this year Tianguis Turistico Mexico, will take place in Cancun – Riviera Maya in the state of Quintana Roo from May 6th to the 9th.
Tianguis Turistico Mexico is the most important tourism business platform in Mexico where domestic exhibitors and international buyers interact under the same roof for three days. Under the new Tianguis scheme as an itinerant venue, the State of Quintana Roo will be hosting the 39th edition of the event showcasing the wonderful destinations within Mexico. Tianguis Turistico Mexico is an event that for 39 years has sold and promoted a single, unique destination exclusively: MEXICO!
Tianguis Turistico Mexico is a world recognized, highly professional and dynamic event in which buyers from all over the world meet with Mexican tourism service suppliers during various days of pre-scheduled appointments between exhibitors and buyers. The Tianguis Pre-scheduled Appointments System is a highly specialized computer matching software program, developed and adapted for this event. The main objective is to encourage the promotion and marketing of Mexico's tourism products and services and to allow the country to increase the flow of visitors from domestic and international markets.
The Mexico Tourism Board cordially invites ATTA Members to participate in the most important business platform for Mexico's tourism sector. If you haven't registered yet, please visit for more information and registration: www.tianguisturisticomexico.com.mx or fill out the pre-registration form, print it and fax pages 2, 3 and 4 to +1-408-228-8942 in the United States.
If you need more information feel free to contact:
Tianguis office in Mexico City:
Tel: +52 (55) 1105 0300 ext. 41257 y 41259
Ghyslaine Richaud: [email protected]
Verónica Kaftanich: [email protected]
Tianguis office in USA and for Canada:
Tel: 1-865-622-2504
Fax: 1-408-228-8942
Email: [email protected]