Seven-day hike along iconic Canadian trail offers more flexibility for travellers this summer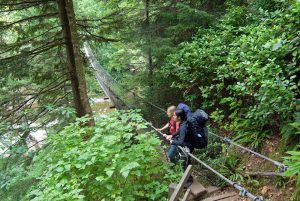 Adventure travel specialist Great Canadian Trails, part of the World Expeditions Travel Group, announced today the launch of its North to South backpacking itinerary along the West Coast Trail on Vancouver Island, British Columbia beginning this summer. The trip allows hikers to end their journey in Victoria, giving them the freedom to extend their travels and experience the southern part of the island at their leisure.
"Most tour operators do the route from South to North, meaning travellers skip Victoria and finish their trip in the remote Pacific Rim National Park where they get a transfer directly back to the ferry for mainland Vancouver," said Keri May, Operations Manager at Great Canadian Trails. "By hiking the trail from North to South, the itinerary ends with a transfer to Victoria, giving travellers the option to stay on the island and enjoy the renowned city's sights and beauty."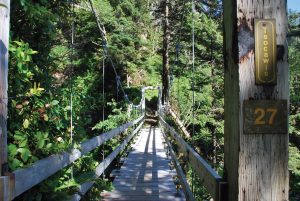 The West Coast Trail is a rewarding coastal trek, both for its spectacular scenery and for the challenge it provides. Known also as the 'Graveyard of the Pacific' due to the abundance of shipwrecks, it is rich in human history, wildlife, and natural rugged beauty, and is considered one of the world's top ten treks. The trail offers sandy beaches, rugged cliffs, blowholes, caverns, caves, waterfalls, bogs, rainforest, lighthouses, abandoned settlements, shipwreck relics, native culture, whales, sea lions, eagles, and giant trees. Intended for experienced hikers, the trail also includes numerous ladders, suspension bridges, and even cable car crossings making it a veritable adult playground.
"A must-do trek. The West Coast Trail is one of the top three scenic treks in the world and the trip was five out of five the whole way," said Ken Harris, an avid traveler from Australia who has participated in over a dozen World Expeditions trips including hiking trails in Scotland, the Himalayas, South America and Africa. "Do it. And have the crab."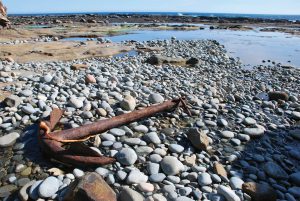 While Great Canadian Trails also offers the South to North route, the additional itinerary from North to South provides backpackers more options and more flexibility. Indeed, the company is unrivalled in offering supported backpacking adventures that facilitate exploring Canada's wilderness, which in this case includes mandatory trail permits, two experienced wilderness guides and a food drop midway through the hike, lessening the load needing to be carried in packs. It is also the only tour operator in the area that offers the choice to hire a porter for an additional fee, making backpacking the famous trail accessible to a wider range of hikers.  Detailed information about the new itinerary and upcoming availabilities can be found online at: http://bit.ly/2jHkYpk