Explore is releasing a new range of unique, one-off adventures with an emphasis on exploring seldom-visited destinations, undiscovered festivals and special events in especially small groups designed to appeal to the most adventurous travellers. The first three trips in this collection are adventures to Congo and the Central African Republic, the Falklands and the tribes and festivals of southern China.
These three trips will launch the new "Limited Collection", with further trips being released every three months. These first adventures could not be more diverse, but they each offer an opportunity to discover extraordinary and rarely visited parts of the world.
The Congo and CAR: A Pioneering Expedition is Explore's most pioneering expedition to date and travels into one of the last remaining wildernesses on the planet. Departing on 23rdJanuary, 2013 with a maximum group size of just eight people, the trip travels
from Brazzaville, through the Congo basin to Bangui in the Central Africa Republic.
Much of this trip's appeal is the journey itself, as it makes its way by road, dugout canoe and on foot through the world's second largest rainforest to an area seldom visited by anyone except research scientists.
For those who think this sounds a little too pioneering, A Falklanders' Welcome might prove more appealing. This trip coincides with the 30thanniversary of the Falklands War and is unique in the way that it is hosted by the islanders themselves. Accompanied
by local hosts, the group will encounter rugged landscapes, extraordinary wildlife including elephant seals, southern sea lions and dolphins, as well as abundant birdlife and will learn about the intriguing history of the Falklands.
The third trip, named Tribes and Festivals of Southern China with Richard Beal ventures into the mountains of Southern China, leaving the tourist trail far behind. Witnessing the traditional lives and centuries-old festivals of the 'minority' tribes of the Guizhou region, this trip has been timed to coincide with four exciting festivals. Plus for a rare insight into the lives of a traditional Miao family, two nights are spent staying with a local family and learning about their customs and traditions.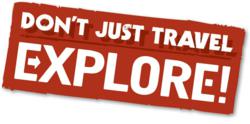 Trevor Saxty, President of Explore! – North America, commented, "Explore has over 30 years' experience of providing some of the world's most pioneering adventure travel experiences. To maintain this spirit, we continue to push the boundaries of adventure travel. Over the last couple of years Explore has launched new adventures in Papua New Guinea, Angola and Sudan to name just a few, and were one of the first operators back into Burma after a 17-year boycott."