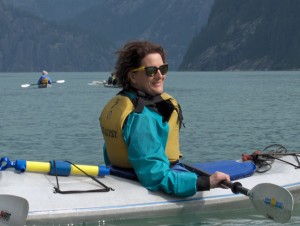 Angels Camp, CA – For seven straight years Condé Nast Traveler has singled out an O.A.R.S.' adventure consultant among its top travel specialists.  Mindy Gleason, Reservation Manager and International Adventure Travel Consultant for O.A.R.S., received this honor again in 2013 as the standalone Top Travel Specialist in the River Rafting category.
Steve Markle, spokesperson for the veteran river outfitter and nature-based adventure travel company, said that Gleason, who has 22 years with the company, was included among the magazine's 146 top "travel wizards" who work on behalf of clients to plan the perfect trip.
The Condé Nast Traveler website states: "Of the more than 10,000 travel agents and tour operators who have tried to break onto this list since its inception 14 years ago, only a tiny fraction have made the grade—this year, 146 specialists. Getting into this group is, statistically speaking, tougher than getting into Harvard. Staying on it is tougher still: It requires not only an absence of valid reader complaints but also ongoing positive assessments."
Condé Nast Traveler's annual Top Travel Specialists Collection recognizes the booking agents representing "the best combination of expertise, access, and value" in travel today, as judged by Consumer News Director Wendy Perrin and the readers of Condé Nast Traveler Magazine. The travel specialists are each recognized for their field of specialization, whether it be wine tours in California, Safaris in East Africa, or rafting trips on the great rivers of the world. The feature appears in the August 2013 issue.
During Gleason's time with O.A.R.S. she has been much more than a behind-the-desk manager, making regular site visits to O.A.R.S. destinations around the world. Gleason has rafted just about every classic O.A.R.S. river from the Colorado River through the Grand Canyon to the Rio Futaléufu in Chile. And, if all goes well, Mindy will be representing O.A.R.S. on trips in Peru and Southeast Asia in the coming months. Gleason firmly believes in the power of these first-hand experiences, stating that "visiting these extraordinary places is so much more than just a great perk. It's what allows me to understand and anticipate the needs of each and every client on a personal level, so I can recommend the absolute best travel options for them."